Four Ways To Gear Up Your Online Sales During The Upcoming Holiday Season
As Christmas is almost around the corner, it is the time for customers to check their gift lists and switch on their "Shopping Modes". According to Statista, about 3 trillion U.S. dollars are generated by the retail industry during the Christmas season, which accounts for 19.2% of the total sales in retail industries. Moreover, since people tend to plan their shopping two months earlier before the holiday season kicks off, retailers revamp their holiday promotion strategies accordingly, in particular, e-commerce retailers. As a result, customers might be "bombard' with loads of promotional information since mid September. As a smart e-commerce retailer, it is essential to roll out an integrated marketing campaign in order to boost your sales online. The four tips below may give you some inspiration about how to push sales and stand out from your competitors and snag consumers during the holiday season.
1. Use the right marketing channel to promote at the right time
I know you want your ads and your promotional offers to reach your target groups as many as possible. So, you are prone to take advantage of all social media channels so that you can create a lot of buzz as well as discussion on your brand/product and bring about more visits to your website. But do remember to think about the competitive advantage of your promotion channel and make a launch plan before you start. The purpose of using different promotion channels varies from each other by virtue of your overall offer and time frame. The graph may shed some light on how to use different type of digital channels properly during the holiday season.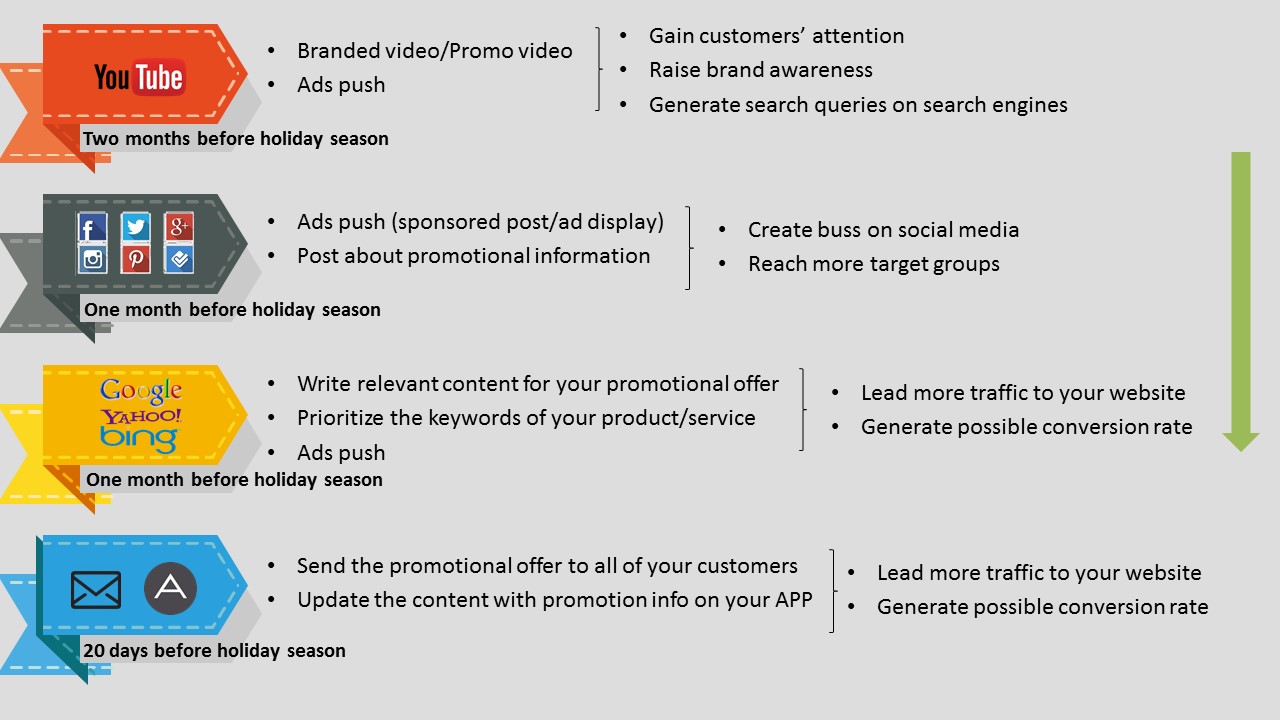 2. Your website should be well-optimized and user-friendly
While many e-commerce retailers dedicate to in-depth promotion on their social media account and make every effort to push advertisements "everywhere" online, they forgot to hammer away on their websites optimization. I am sure you have ever received the customer complaints such as "there is no search column on your webpage and I cannot find the product I want" or "I saw your awesome product offer on Google and would like to check out the price and reviews, but I was directed to your homepage rather than the product page I want". You will definitely lose your customers as a result of these issues. Website optimization requires the collaboration between your Online Marketing team, IT department and Content Management team. Let's consider a customer's first purchase as an example. When a customer search for a branded coat on Google, your ad shows accordingly—Get 15% discount for your first purchase on women's garment. Then, the customer finds the coat she wants and click the ad. The ad should be directly linked to the URL of the target product that customer wants. Once the customer goes through the product information and reviews, she might want to compare the product price or take a look at other offers before she puts the item into the shopping cart. So, there is ample room for you to push possible sales—–Product recommendation, real-time promotion etc. When it comes to payment process, do not forget to add extra benefit section, product description and return warranty to assure your customers. Bear in mind that focusing on an overall user experience is of the essence nowadays.
3. Try retargeting if users have their shopping carts on hold
If someone puts many items in the shopping cart, it does not necessarily mean they will purchase ultimately. But it also indicates that she/he is interested in these items and intends to buy them. You could either send them emails to for a short reminder or display your ads on other sites which they visit frequently in order to bring them back and complete their purchase. Here is a tip for you. Try not to bombard your customers with loads of ads or tons of emails all the time. They may drag you to the blacklists and never ever come back to your website again. The example below shows the time I was exposed to Wardow's ad when I logged into my Facebook after simply searching for Furla Metropolis bag on Wardow without purchasing.
4. Work on User-generated Content and communicate with Key Opinion Leaders
It does not matter if you have no brand ambassador to endorse your products. Those who have already used your products/services can best represent your voice. It is important to encourage your customers to share their user experience and product reviews online. On the other hand, trying to find some key opinion leaders in your business sector or product portfolio is also a good option to boost your brand popularity among audiences. Blogger icons or celebrities have a large group of followers on their social media accounts. You can imagine the level of influence incurred once they write a brief review of your product.
The four tips above do not sound like a catholicon for all e-commerce retailers. But I hope these tactics can raise your eyebrows and give you some inspiration when you start running your marketing campaign in the holiday season.
Source of pic: http://blog.hubspot.com/marketing/banner-holiday-shopping-season-ecommerce-prep