Three Free Tools You Can Use To Analyze Your Competitors Online Performance
With the advent of digital marketing, to analyze your competitors online performance simply by using SWOT analysis or drawing a perceptual map with some evaluating indicators does not seem to be working well any more, in particular, for those who compete against each other online such as e-commerce companies and self-employed online entrepreneurs. There is no doubt that marketers from those e-commerce blockbusters can identify its business competitors easily and compile a comprehensive competitor analysis by using some key metrics (e.g. number of backlinks, monthly traffic) with the help of SEO management tools, for instance, SimilarWeb and Searchmetrics. However, unlike big e-commerce companies, small business entrepreneurs might be more prudent about paying for these tools at the beginning with a limited budget. Therefore, three tools introduced below can help them build a generic competitor profile. More importantly, they are totally free of charge with a ZERO threshold.
It is an extension that is compatible with all major browsers. All you need to do is to firstly, go to your browser app store and type "seoquake" in the search box and then, install and activate it. Once you have it installed and the data shown in its tool bar are exactly what you would like to know about your competitors.
Additionally, the data shown in the toolbar include most key metrics you will use to compare the online marketing performance of your competitors. Here is a quick recap of what you can find on this "magic tool bar". The "PAGE INFO" gives you basic information about Meta keywords and Meta description the website use. Besides, the parameters including Page rank, number of indexed domains, backlinks and keywords density may show you how your competitor rank for main search engines such as Google and Yahoo. One of my favorite features about SEO quake is that it lists all the internal and external links where you can check out its anchor text and evaluate part of its link strategy. You can also compare yourself with a bunch of competitors by using "Compare URLs/domains" to get a general picture of how your website online performance differs from others.
For a different note, you can click "Setting" button on the top right and select preference where you can customize what factors and parameters you would like to display on toolbar.
It is better to use excel to document the data you have gathered from SEO quake in order to compare the number of indexed domains and links, page rank and meta keywords.
Page Comparison allows you to compare five independent URLs every time. Once you input the URLs in the search box, you will get on-page analysis in a second. Essential evaluating factors include "Head tag elements" "Headings" "Keyword usages of non-linked words on-page" "Linking structure of page" and "Page text". The analysis can help you gain a better understanding about what kind of keywords your competitors rank for and what link structure your competitors use. The only drawback of this tool is that you can only compare the pages between each other rather than the domains. The image below displays how you can start with putting URLs and the result page you get.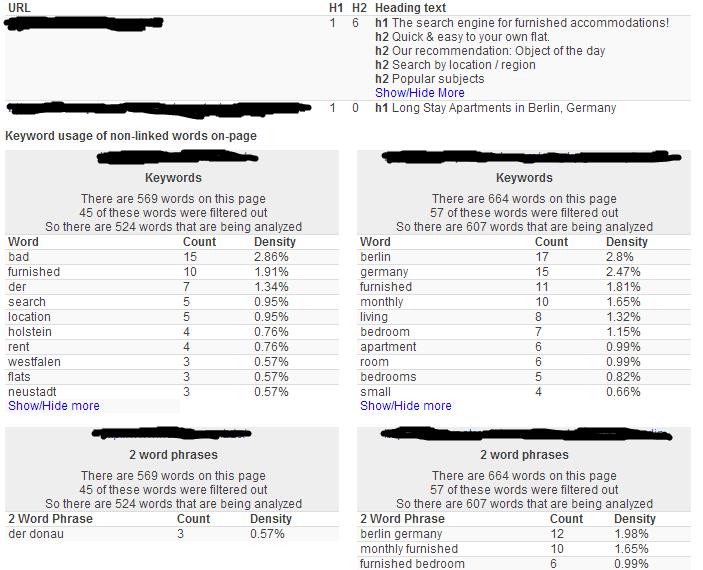 If you are a blogger or small business entrepreneur, this is a perfect tool for you to check both yours and your competitors' back-link profiles. More importantly, you can analyze what link strategies your competitors have applied. It could be simply buying cheap links. It could be becoming a guest blogger for many mainstream blogs within the industry, just name a few. At the same time, you can also reach out these link contributors and build a relationship with them once you review your link strategies and figure out what link strategies you are going to use in the future.
The three free tools mentioned above serves as a good resource for analyzing your competitor online performances. However, the key metrics they provide may not be sufficient enough to analyze your competitors online performance and build an overall competitor profile. If you would like to estimate your competitor's traffic or compare your brand share with other industry players, here you will find more information about how to calculate the share of voice based on estimated traffic and SERPs rankings.
source of pic: http://www.findandconvert.com/b2b-digital-marketing-services/messaging/competitive-analysis