How To Prioritize Keywords For Your Business (2)
We have covered three steps you should take when you start keywords prioritization in previous post. There are two other important steps to prioritize keywords for your business where you can take a look in the discussion below.
4. Draw your keywords map
This is the most complex stage that requires amount of your effort. After you make sure you have selected major seed keywords you would like to focus on by checking out search volume and the level of competition, now, it is time to roll out keywords extension and map out all the relevant keywords. Here is the shortcut that you can use to extend keywords base.
Categorize your seed keywords
Once you have a list of pre-selected keywords with sufficient search volume, it is better to group them into several topics. The topics can be relevant to your product offer, or a description of customers' need etc.
Check suggested keywords extension on search engines
Generally, once you type seed keywords on search engines, they will predict your search intentions and give you suggested search terms accordingly either at search column or at the bottom of SERPs. These search terms always give you a hint about what most people search recently and what becomes trendy topics online.
Do not ignore the synonym of extended keywords
Sometimes, you may not get sufficient extended keywords even if you have already rack your brains. It is not a bad idea to search for the synonym of extended keywords you have found. For instance, instead of using "used cars", people may search for "second hand car". More importantly, it is possible that replacing the extended keywords with its synonym gains higher search volume and lower competition.
Focus on long-tail keywords based on your extended keywords
According to Moz, the long tail keywords contains hundreds of millions of unique searches that might be conducted a few times in any given day, but when taken together, comprise the majority of the world's search volume. Another big advantage of long-tail keywords is that since these keywords are specific that exactly reflects a customer's needs when he conducts a search, these keywords always convert better on the premise that the site is well optimized (like deep link). Some of the patterns I use below may help you gain inspiration regarding how to build your long-tail keywords list.
Extended keywords + geo factor (e.g. city's name)
How to/Where to/+ Extended keywords
Adjective + Extended keywords (e.g. the best/top 10 + extended keywords)
Extended keywords + its feature (e.g. women leather boots, brown size 37)
Extended keywords + its using scenario
You can either combine these formula together or use them alone, depends on you. But the more specific they are, the more possible it will be to get better rankings and more traffics for your website.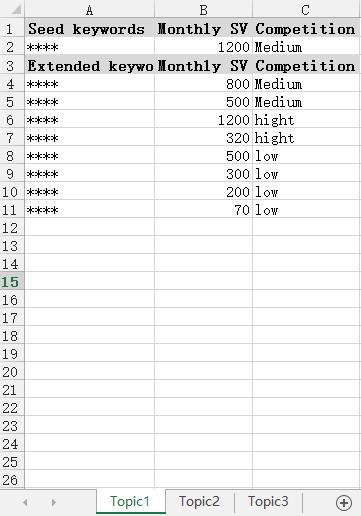 5. Evaluate the value of your keywords
This is the last step before you release your keywords list. It is not necessary for individual webmaster, but it is definitely a must-do process for medium-sized or big companies in order to help decision makers optimize their strategies. Traffic forecast and actual on-site conversion are the two essential indicators to evaluate the value. However, make sure you have gained a general picture of all your seed keywords ranking before you start. Once you have CTR of each ranking, together with search volume, you can calculate your potential traffic by using the formula below.
Estimated traffic=Search Volume*CTR of your keyword ranking
Let's say you have "living in Tokyo" as your keyword and it ranks Nr 2 for your business with CTR 9%, and the monthly search volume is1000, therefore, your estimated traffic for this keyword is 90. If you would like to know more about how to estimate, please click here for further details.
As mentioned before, the on-site conversion rate should be taken into consideration as well. Since the organic traffic does not indicate the ultimate purchase or sign up, it is important to monitor the profit that each keyword brings about and decide the real value of each keyword.
Even though more SEO management tools came on the market to help SEOers simplify their work process, it is still essential to go through keywords prioritization, the most fundamental phase of SEO manually with some effort.
source of pic: http://www.preapps.com/blog/how-to-pick-the-best-app-keywords