How To Prioritize Keywords For Your Business (1)
Keyword prioritization is the first step you should consider when you embark on search engine optimization. You probably have already had a list of pre-selected keywords in your mind. The following steps may help you figure out which keywords you should target in order to increase the traffic to your website and of course, gain better conversion rates. Basically, help you understand how to prioritize keywords for your business.
Make full use of online FREE TOOLS to get some inspiration
Keyword Planner helps you search for new keywords by using a phrase, website or category and get search volume and trends.  Once you log into your Google AdWords account and click "Tools" tab, you will find all the relevant information. If you have not yet built up your website and would like to see whether the potential keywords you came up with has sufficient search volume, simply click "Get search volume data and trends" and paste all your keywords there. This helps you gain a better understanding of your keywords. However, if you want to enlarge your keyword groups, you could try the other two functions.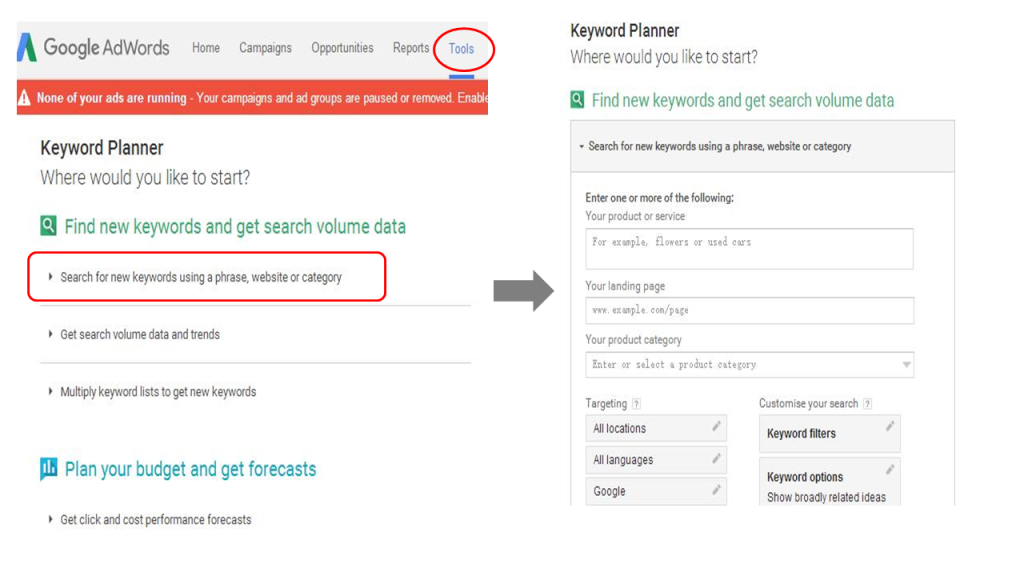 Übersuggest can help you figure out what words people tend to search frequently on Google. More importantly, they give you suggestions the most popular words that could be appeared on Search Engine Results Pages, an awesome way to find your niche market and get ideas about what you are going to write about regarding your website or blog.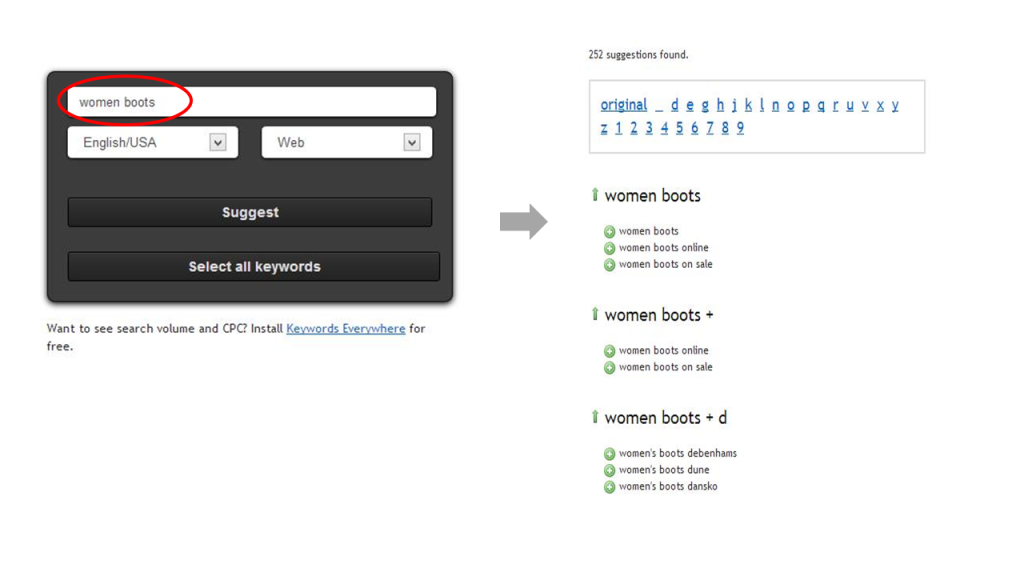 Search volume is an important indicator but not the deciding factor
Search volume represents the times users put queries about the specific keyword on search engine. Generally, Google AdWords can be used to get approximate search volume. However, the search volume only gives you general indications about what keywords you should focus on since there are some variations that influence the value of search volume. For instance, when a topic is of seasonally interest or has a lot of buzz on social media, the keywords related to this topic will gain a high search volume in a short period of time. But this does not mean you have to prioritize these keywords immediately. What you need to do is to take a look at the annual search volume and then, decide if you would like to make an effort to prioritizing these keywords. Additionally, you should be careful about the "wording trap". Sometimes, keywords you decided to prioritize actually do not have any commercial value. In other words, if the potential keywords with pretty high search volume you have chosen are extremely related to history or political reasons etc, you have to go back to search engine and check their actual rankings. Bear in mind that it is impossible to rank higher than website like Wikipedia or government/authority websites.
Check the level of keywords competition
If you run a small business and do not have enough budget to buy SEO tools to check keywords competition. Here is the way. Firstly, you have to look at the number of search results on search engines. If there are millions of search results, it is hard for your website to rank in the top 10 since most websites with high authority and huge number of domains have already occupied the first two pages. On the other hand, taking advantage of "inanchor" command, which leads you to the pages including your preselected keywords in the anchor text. For example, try to type "inanchor: black handbag" in search engine and you can tell how many pages and what kind of websites have used "black handbag" from search results. This is also a good way to identify your competitors.
I hope the three simple ways mentioned above can give you a generic introduction about how to select your keywords. There are two more essential methods regarding how to prioritize keywords for your business you can try as well. I will write about it in my follow-up post.
Source of pic: http://resultspm.com/services/expert-search-engine-optimization/website-keyword-internet-search-analysis/