I have always been questioned about how to prioritize keywords for a blog or how to draw a complete competitor analysis for a certain product. It is definitely true that these are quite crucial aspects you have to focus on before you start launching your webpage. However, in addition to keywords and on-page content, there are other on-site elements you need to pay attention to before promoting your website online. The four on-site optimization tips below give you a good overview about the specific factors you have to take a look before you kick off your website promotion. Just a quick note, do not mix on-site optimization with on-page optimization. They are different!
1. Check if your website is mobile-optimized
According to Business Insider, American consumers spent around 3 hours and 40 minutes browsing on their mobile devices. Moreover, the time spent on mobile phones first exceeded the time spent on desktop in 2015. From a search engine marketing perspective, Google announced that more than half of the searches occur on mobile devices and these search queries bring a huge amount of traffic to websites at the beginning of 2015. As most of your users coming from mobile traffic view your website on their mobile phones, it is necessary to make your website mobile-friendly in order to deliver a superior user experience. In addition, a mobile responsive website also adds value to your on-site conversion. In other words, the long people stay on your page, the more action they might take. Together with a call-to-action design, it is probable that they will convert to your final customers and start the purchasing process. In terms of SEO, google has just announced that they will boost their mobile-friendly algorithm this summer, which further indicates those mainstream search engines favour mobile-optimized websites and prefer showing them first on SERPs. So, mobile optimization is one of the most important on-site optimization stuff you need to take account.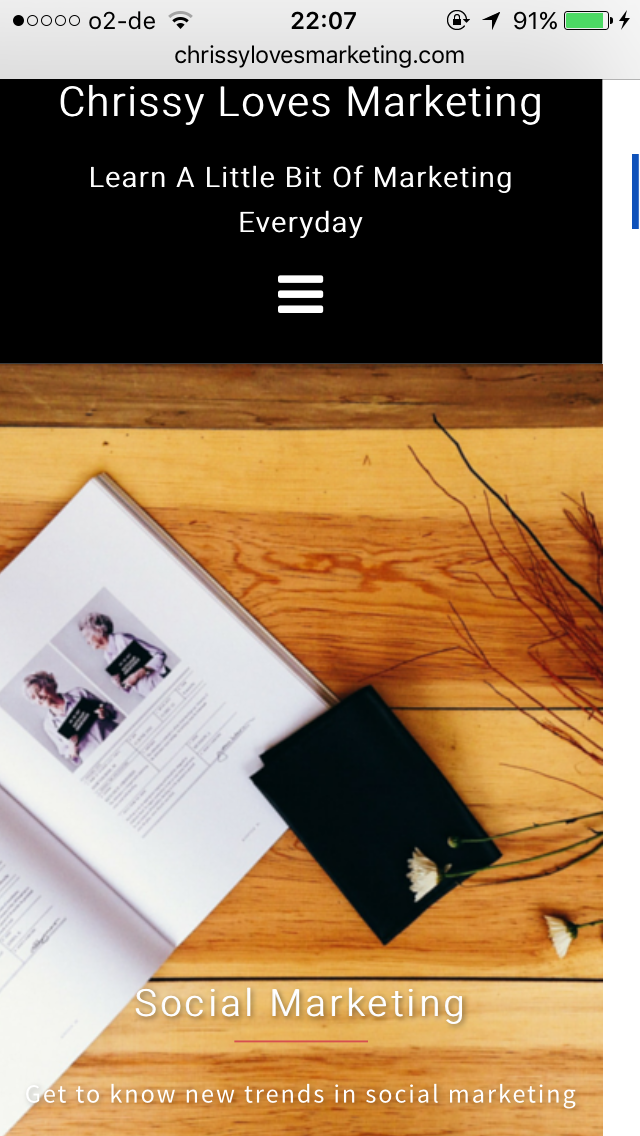 My blog is mobile-optimized. Therefore, the average bounce rate is not too high and the average session duration lasts more than 4 minutes (data was extracted from 1st of March to 16th of March). But one thing to bear in your mind, it is better to test your webpage on different mobile devices and make sure everything works well before you start promoting your website.
2. Assess your site speed
"Chrissy, it takes ages for me to load your blog page on my mobile phones." I always get such complaint from my readers. And honestly, I had no idea how to fix it at the beginning. Actually, this sounds like a technical question to most people, well, including me, and they think it is developer's job to "fuel" the site speed. In my opinion, bloggers or website masters are also capable for this job even if they do not have any computer science background. There are many free online tools you can use to solve this problem. More importantly, you get insight and solution right after you run a thorough check on your website. For me, I used Google Developers Tool to check my site speed and I found the pixels of pictures that I put on my page is quite large. In the end, I changed the pixels accordingly and it takes faster to load than before. Plus, the bounce rate also dropped a bit.
3. Review your site map
Another on-site optimization element you need to take a look is your site map. A site map is a file where you can store all your webpages and tell search engines about how you organize your website content. It describes your website framework and each page should be properly linked. If you have rich media content such as images, video or e-book on your page, submitting your sitemap will improve the crawling of your site. Therefore, make sure your webpages are closely linked with each other and try to diversify your on-page content before you officially launch your website. Do not forget to review your site map regularly and keep it update.
4. Evaluate your content availability
When it comes to content availability, I am talking about the number of posts with different topics you have to prepare before you decided to promote your website online. In order to increase your website visibility on SERPs constantly, especially during your website launch phase, it is necessary to add something new every two or three days. It could be a post introducing your product, or a piece of customer testimonials. On the one hand, it will attract crawlers to read your website more often and increase the possibility of indexing. Hence, it is better to have at least 5-10 available content pieces featuring multiple topics. In terms of content topics, you also need to be proactive about the possible results you can get after your website promotion. That is to say, the content piece you are going to promote later can be inspiring, PR-focused or even just for fun. But the main goal is to generate buzz around your website and lead more traffic to your site.
The four tips mentioned above are essential on-site factors to bear in mind before you spread words about your website online. But they are not the only thing you need to consider before you promote your website. I will cover other on-site optimization approaches in my next post.
source of pic: https://www.google.co.uk/url?sa=i&rct=j&q=&esrc=s&source=images&cd=&ved=0ahUKEwjihe-C18rLAhVkJ5oKHewqC60QjxwIAw&url=http%3A%2F%2Fwww.emarketingint.com%2Fcategory%2Fsearch-engine-optimization-seo%2F&bvm=bv.117218890,d.bGs&psig=AFQjCNFKYx-CGfsgQdlmbf2J-LN08vf5jA&ust=1458405770063799